Have you always wanted to read a book about a Jewish detective, his Native American partner, and a reluctant Messiah? Maybe one with organized crime run by an orthodox rabbi, a chess-playing heroin addict, a regretted abortion, mystical prophecies and portents, and a dog that insists on being tied up to await the return of its long-dead owner? Oh, and it should definitely take place in a slightly alternate future in which the Jews settled temporarily in Alaska. And yes, all that should take place in the first hundred pages.
Do I have a book for you!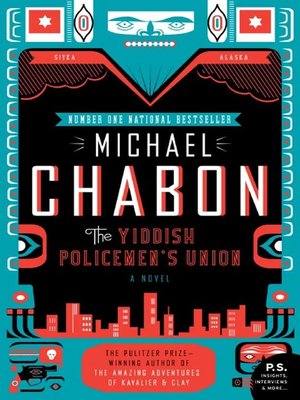 The Yiddish Policemen's Union is a gorgeous and heartbreaking book. It's a noir-type mystery, an apocalypse, and a story of redemption. It's also outrageously daring: in 400 pages, Chabon covers Jewish salvation history, the life story of more characters than anyone has a right to expect, American politics, a caricature of fundamentalism, and the meaning of redemption, homeland, duty, and identity–all in the present tense. And he pulls it off.
Even the writing itself is daring. The present tense gives the whole thing the feel of oral storytelling, which is enforced by the colorful descriptions. A short man, only mentioned once, is a "fireplug, his bowed legs and simian arms affixed to his neck without apparent benefit of shoulders." It's not just snowing; "the snow falling is like pieces of broken daylight. The Sitka sky is dull silver plate and tarnishing fast." The Rabbi's mind is a "library in a bonepit."
Chabon is always on the edge of taking things too far. Then he pushes it over the edge, and brings it back again. At the very beginning of the book, one character describes another as "a broken man…like one of those sticks you snap, it lights up…[f]or a few hours. And you can hear broken glass rattling inside of it." Okay, so it's nicely done, but it's a tired metaphor. But then, four pages later, Chabon pulls it back again and this time it pierces your heart: in an imaginary meeting, the detective and the dead man sit, "shedding the last of their fading glow on each other and listening to the sweet chiming of broken glass inside."
But please don't think it's all darkness and heartbreak. For one thing, it's funny. Darkly, ironically funny, in a very Jewish way, but funny. For instance, Chabon has created an entire dialect of Yinglish for his imaginary world, where "sholem," literally "peace," is an idiom for a gun–a piece.
And don't worry, it's not hopeless. It carries you through triumphantly, breathlessly, to an ambiguous, but somehow peaceful ending. It's such a rush that only afterwards do you realize that Chabon has created such a full world that he's left a lot of loose ends. But because it is a novel about what life is like, that doesn't seem inappropriate. Although it doesn't lack for plot, it's about more than that. It's a novel about fathers and sons; about identity, homelands, and assimilation; about the tension between waiting for Messiah and living life as it is, now and here. It's a novel about a man who lives in the past, confronted with zealots who live in the future, learning to live in the present.